The Best Guitar Brands Every Beginner Should Know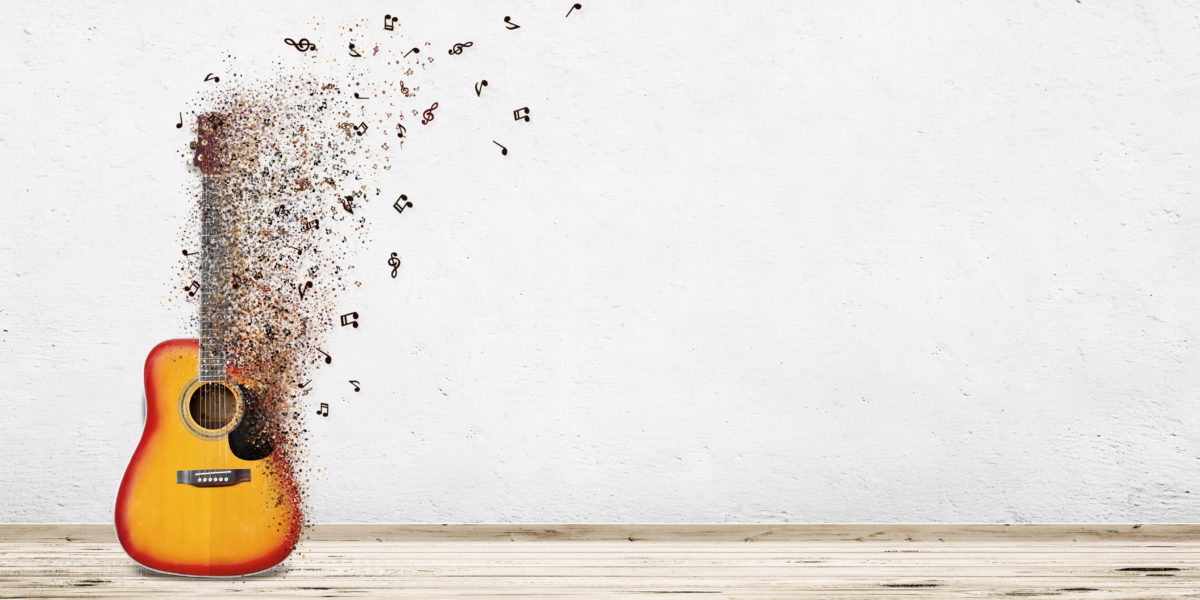 Wondering what the best guitar brands are? Here's a list and a little information about each company and the guitars they make. From Gibson to Fender, here is our ranking.
Whether you're shopping around or curious, knowing about the various guitar brands can help you identify which instrument is right for you.
There's no single brand. Every instrument-maker adds their personal touch to guitars. Some opt to create top-quality instruments that cost thousands of dollars. Others focus on building guitars suitable for beginners.
Ultimately, it comes down to what works best for you regarding the best guitar brands. Without further ado, here are the best guitar brands that every beginner should know.
Gibson
Orville Gibson started making instruments in 1894. He founded his first company Gibson Mandolin-Guitar Mfg. Co. Ltd. in 1902.
Gibson invented the first arch top guitars by emulating the arch top of violins. In the 1930s, the company started manufacturing and selling flattop acoustic and hollow electric guitars.
The company has had a massive impact on the world of guitars. Their instruments a renowned for their sustain, making them ideal for folk and country music.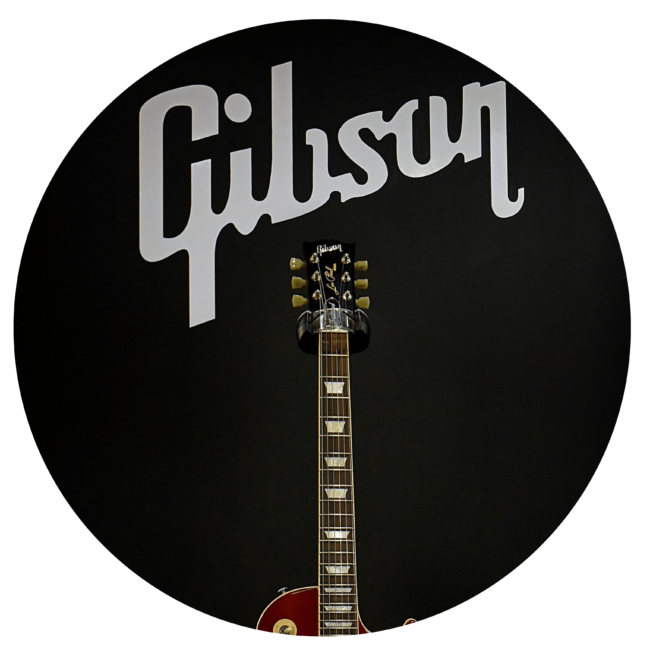 Some of their popular instruments include:
Les Paul
SG
Flying V
Hummingbird
J-45
J-50
Fender
Fender is the number one guitar seller–their Fender Player Telecaster and Fender Player Stratocaster were the most bought guitar in 2021.
Founded by Leo Fender in 1946, the company started as Fender's Radio Service, fixing radios, phonographs, and home audio amplifiers. However, Leo noticed some flaws in the guitars produced during his time and started working on his own. Today, Fender is among the manufacturing giants in the industry and the most recognized. The Stratocaster is heralded as one of the best guitars ever made.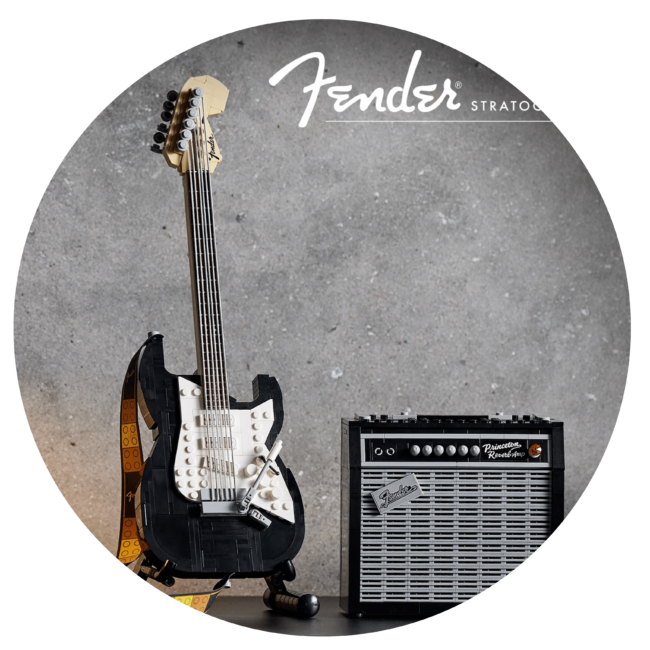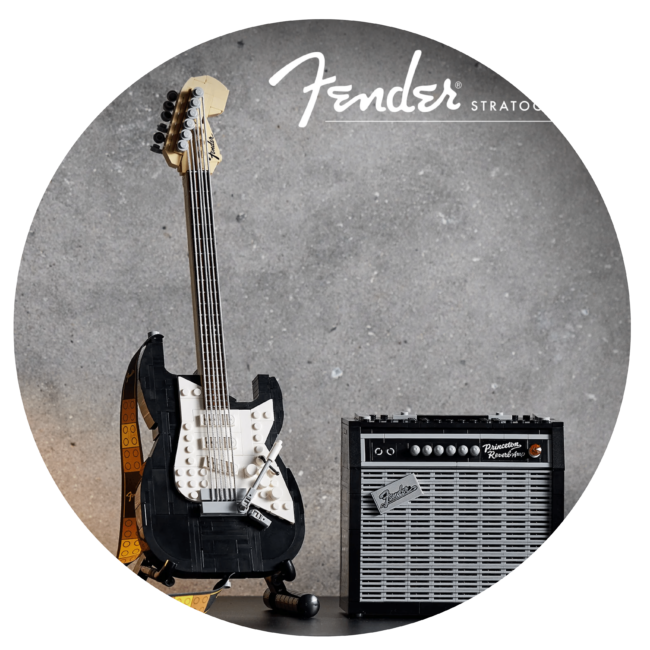 The company is most known for electric guitars and bass guitars like:
Stratocaster
Telecaster
Jaguar
Jazzmaster
Precision Bass
Jazz Bass
Taylor
When it comes to creating high-quality instruments—Taylor is one of the top makers on the block. However, their guitars are also known to come with a hefty price tag. The company specializes in acoustic guitar but also offers some good electrics too. 
Bob Taylor started working at a guitar-making shop called American Dream. Eventually, he and two other employees would buy the shop and rename it 'Taylor.' Bob handled design while the others handled the business side of things.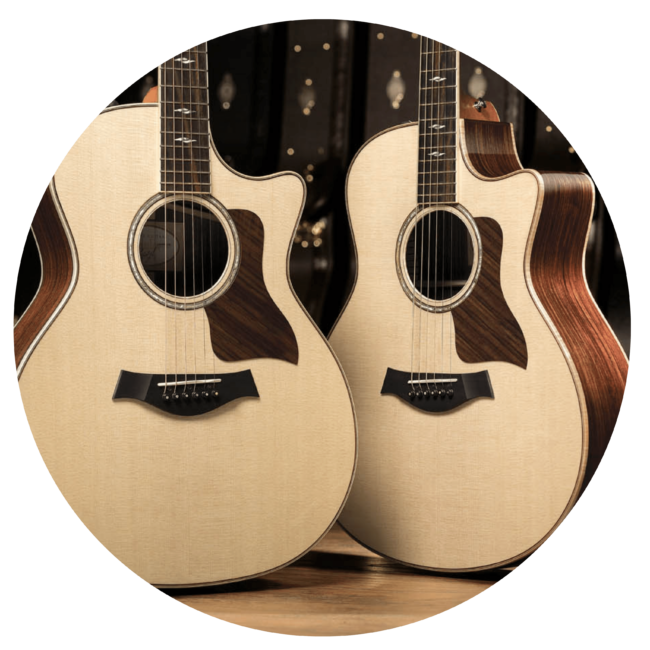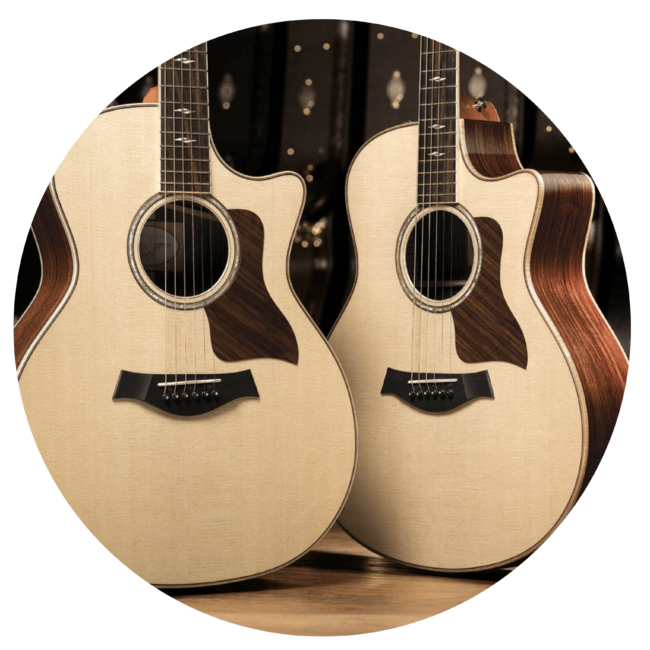 Today, Taylor is a powerhouse in the guitar-making industry with various quality guitar designs, including:
Dreadnought
Grand Orchestra
Grand Symphony
Grand Pacific
Grand Auditorium
Martin
The American guitar manufacturer was established in 1833 by Christian Frederick Martin. Today, Martin is one of the leading acoustic guitar makers–influencing the shape of the American acoustic guitar.
Like Taylor, Martin makes top-tier instruments and is credited with developing the X-bracing system. The company hasn't lost that innovative touch. With the loss of forests and trees, Martin offers guitar designs that use other woods where possible.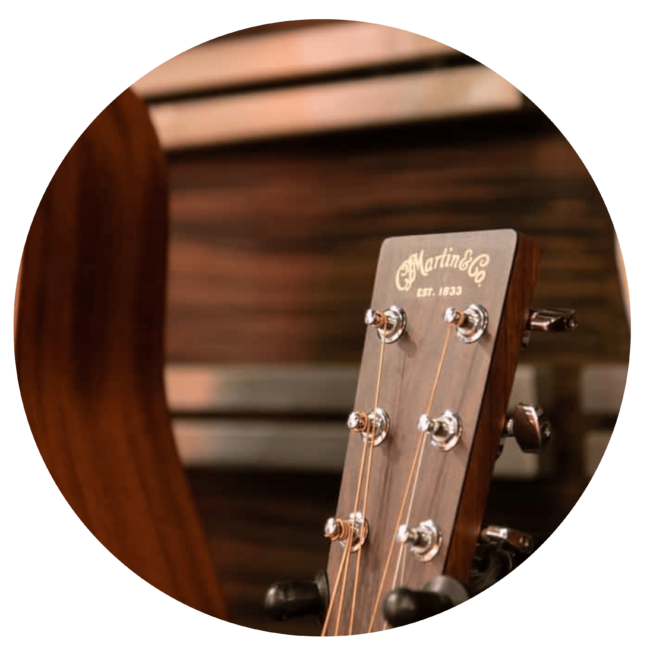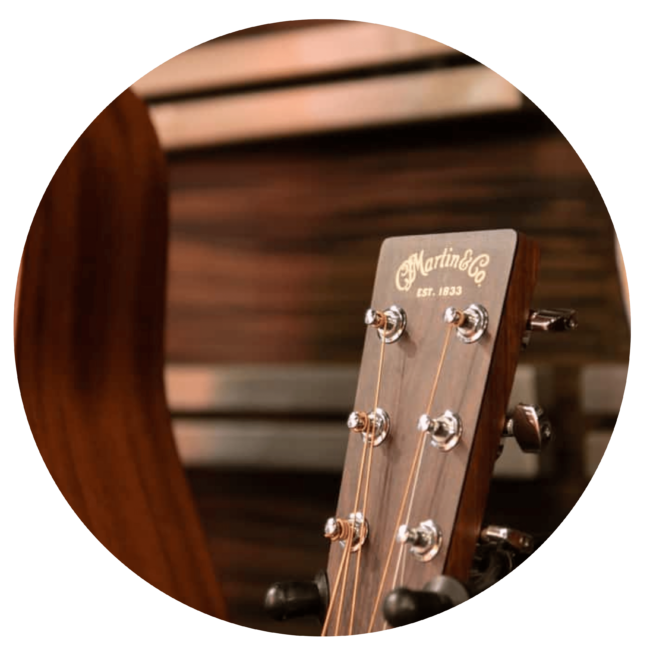 Some of Martin's best creations include:
Yamaha
Yamaha is a company that does it all. From motorcycles to practically any instrument you can think of, they make them–guitars are no exception.
If you're interested in learning more about Yahama, check out our blog post, Yamaha Keyboard for Beginners.
The majority of their electric and acoustic guitars are designed for beginners. They're affordable, easy to use, offer quality sound, and stand the test of time.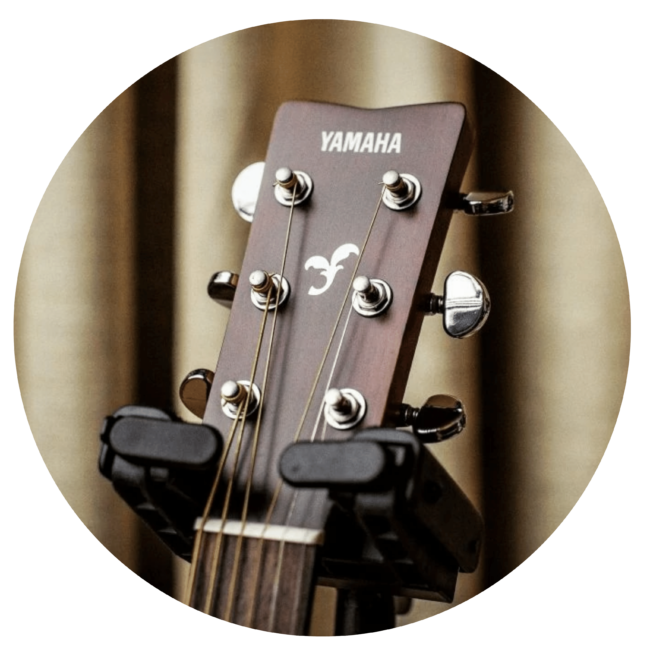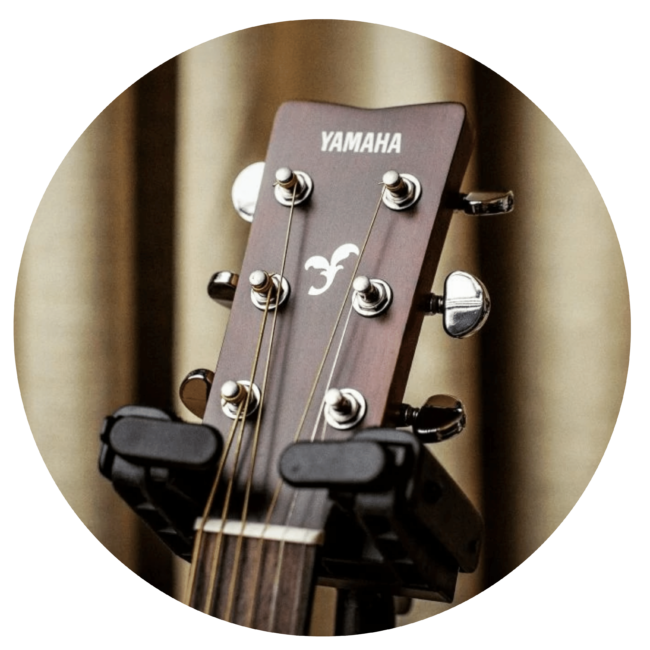 Yamaha FG830
Yamaha Gigmaker Standard
Yamaha LL-TA TransAcoustic Dreadnought
REVSTAR
Pacifica
SA2200
Guild
Guild is an American guitar-maker specializing in semi-hollow electric and acoustic guitars—founded in 1952 by a guitarist and store owner, Alfred Dronge.
The electric guitars look and sound like they're from the retro-rock era—although Guild is known for their acoustic guitars. It's not uncommon to see professional musicians with a Guild acoustic guitar–their quality rivaling Martin and Taylor.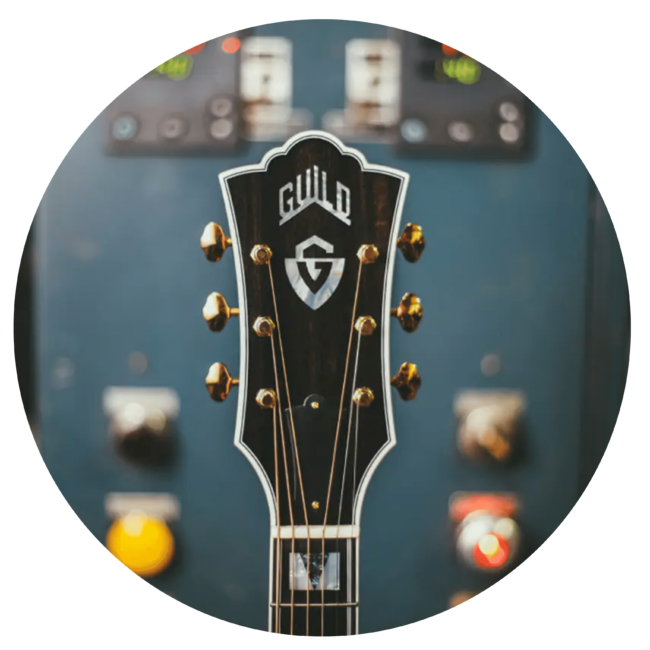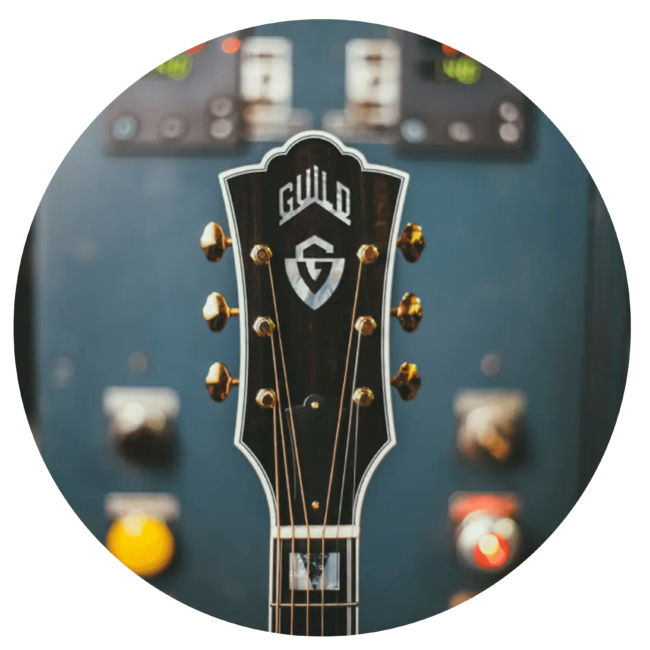 Guild has created several masterpieces over the years like:
Starfire
Aristocrat
D-150
M-240E
OM-150
F-1512E 12 String
ESP
In Tokyo, Electric Sound Products (ESP) was opened in 1975 by Hisatake Shibuya.
The company provided custom replacement parts for guitars and made guitars. Eventually, ESP was known for creating high-quality custom shop guitars in the 1980s and 90s. Today, they're one of the top suppliers of guitars for heavy metal, and many professional musicians worldwide go to ESP for top-tier guitars.
In 1995 ESP LTD created a line of guitars that were more affordable for the masses. They've got some seriously metal designs.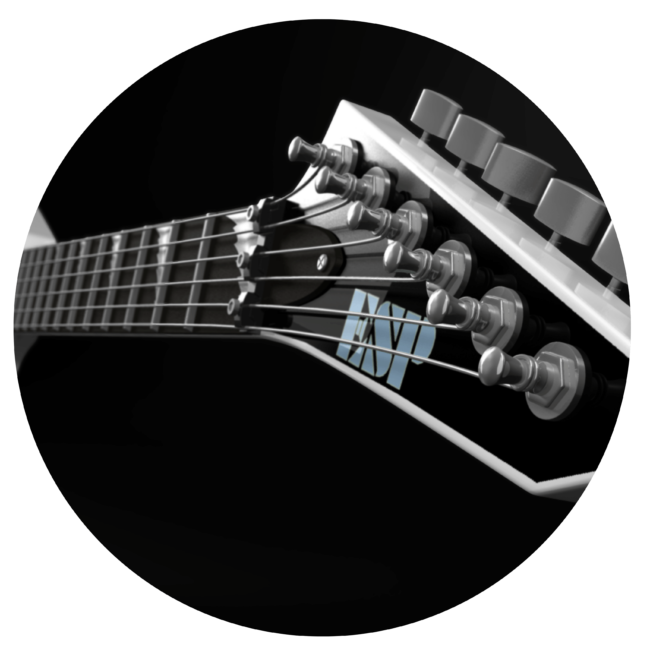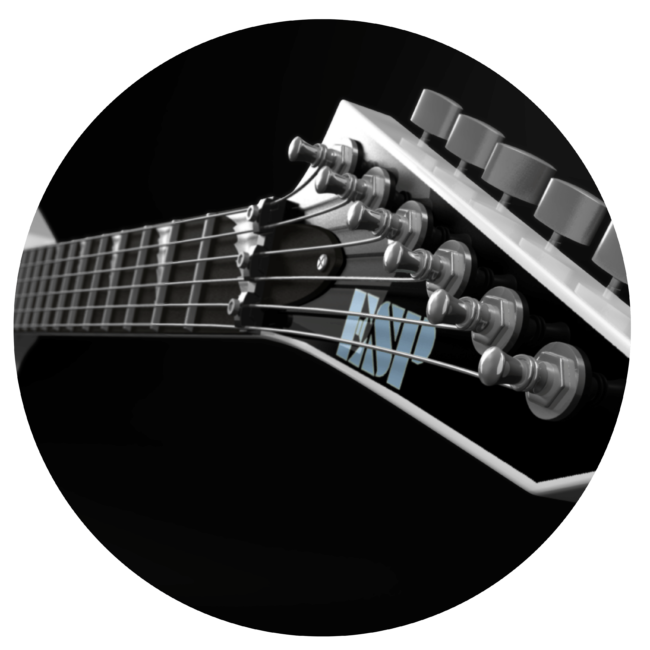 Some of ESP's masterpieces include:
FRX CTM
Horizon FR CTM
ESP Horizon-I
FRX
RZK-II Burnt
ESP Arrow
Ibanez
Based in Japan, Ibanez is the first brand to mass-produce the seven-string and eight-string guitars. They create guitars for every music genre and demonstrate an affinity for metal and rock guitars. 
The company went through a rocky time in the 1960s. They were copying the designs of elite guitars like Gibson, Fender, and Rickenbacker–resulting in a time referred to as the lawsuit period.
Ibanez returned to its feet soon after, creating models like the Iceman and Roadstar series.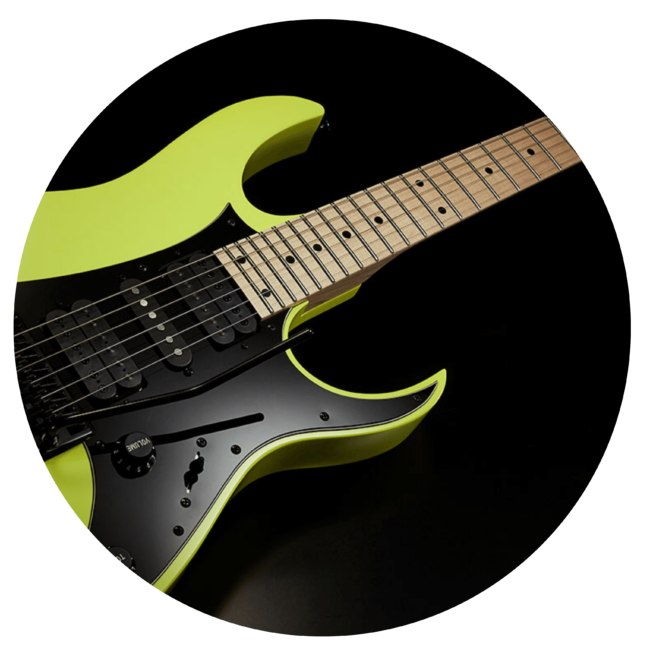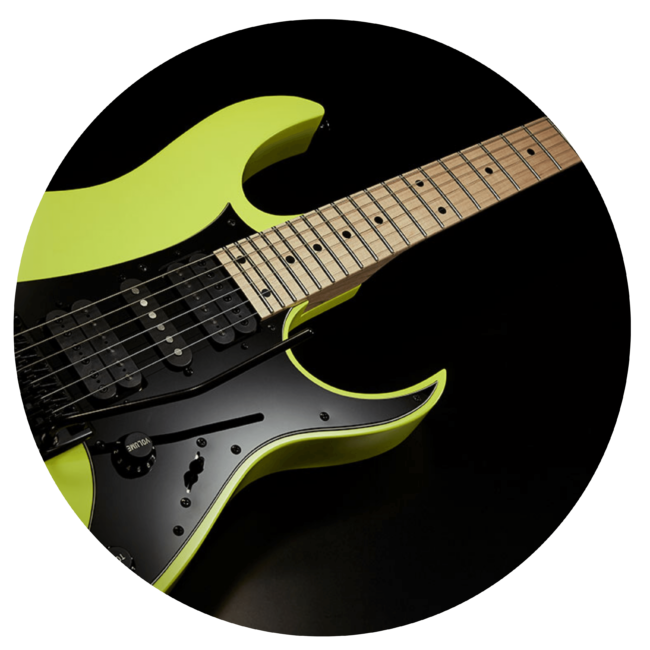 Ibanez is known for creating guitars like:
RG8
AR520HFM
RGA42FM
ICHI10
LB1 Lari Basilio
PIA3761 Steve Vai
Seagull
Based in Canada, Seagull is a sub-brand of Godin that makes high-quality acoustic guitars, mandolins, and ukuleles and sells them reasonably cheap.
The guitars are carefully crafted with tonewoods and sophisticated construction techniques, giving the guitars a quality sound. They include a compound curve that adds an arch to the guitar's top to allow for a thinner and more lightly braced top–improving the structural integrity and sound.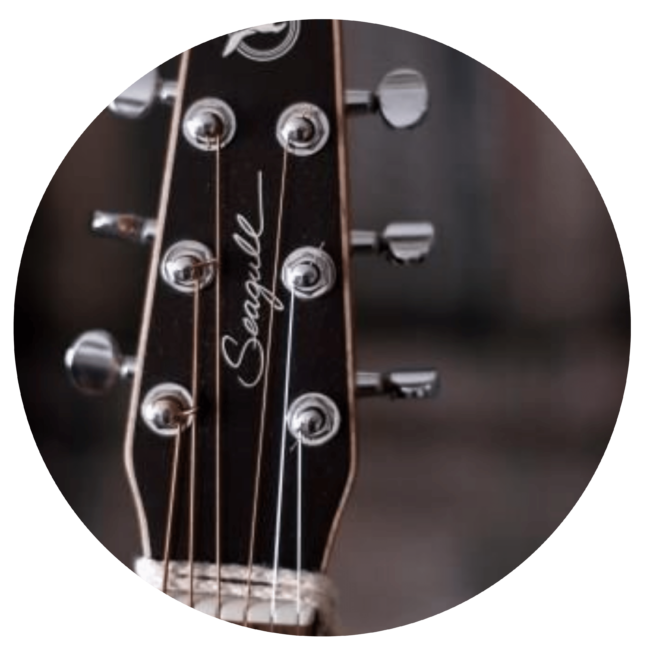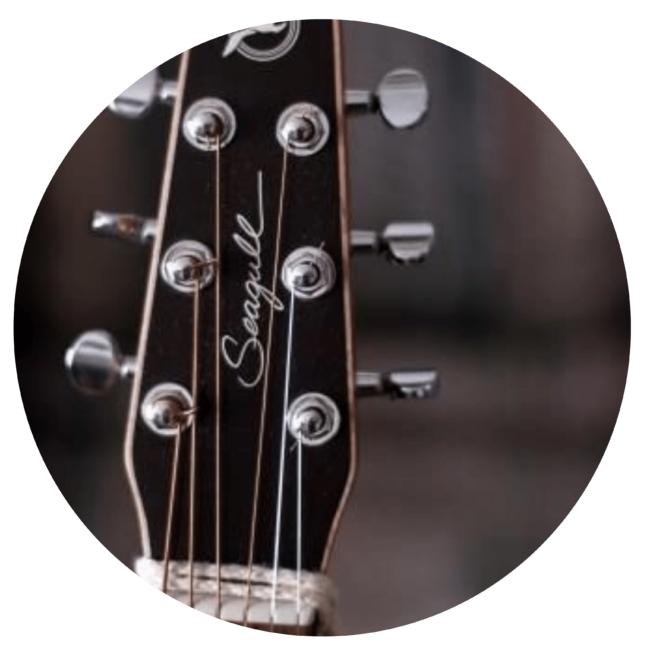 S6 Original
Entourage Rustic CW Q1 GT
Coastline Cutaway Dreadnought
Natural Elements Standard Dreadnought
Artistic Mosaic
There are tons of guitars brands out there today. Some design high-quality acoustic or electric guitars that cost thousands of dollars. Others create instruments for the masses. Knowing about a brand helps you find the right guitar for your needs. 
Regardless of the guitar you play, keeping it in tune is essential—there's nothing more uninspiring than playing an instrument that's out of tune. 
You can keep your guitar, bass, or ukelele sound fresh with the Simply Tune app. It's free, easy to use, and effective. 
FAQs.