The 10 Best Piano Forums to Discuss and Learn Piano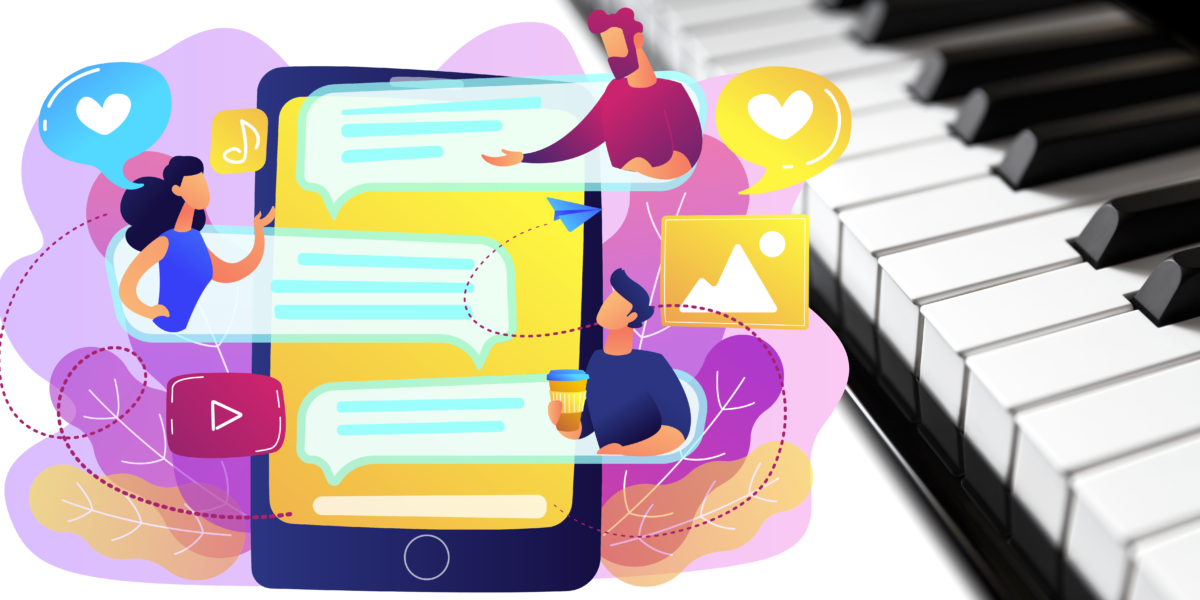 Learning to play the piano is a long journey; we shouldn't walk it alone. Luckily, there are many online piano forums where you can read about and discuss your questions about piano. In this short article, we've picked out our ten favorites for you.
These days, it is so easy to learn piano independently from the comfort of your home. There are online courses, applications such as Simply Piano, and teachers on Zoom. This has enormous benefits in convenience and accessibility but can sometimes make the piano learning journey lonely. Not only that, but there may be moments during your practice where you have a burning question. Your teacher will not always be available to assist, and your app won't necessarily have the answer.
There are many piano forums where you can discuss and consult with other piano players from all levels worldwide. In this article, we narrow down a short list of our top ten piano forums for you.

A user-friendly forum where people post questions, give answers, and sometimes just share their music for the sake of it. 8 Notes has a community of piano players ranging from beginners to advanced, where they ask questions on various topics – from technical or gear-related to music theory and performance queries. The forum has been slightly less active in recent years, so if you have a specific question and want a quick response, this may not be your best option.
This forum is organized very conveniently into clear categories: performance, repertoire, teaching, student's corner, instruments, and even an 'audition room' section where you can post a video or recording of your playing and receive feedback from the other members.
This forum is especially good for beginners stuck on topics related to music theory because there is a large bank of theory-related discussions already there, guided by piano teachers who are active and responsive on the forum.
Welcome to the piano society! These words appear when you first open this website, alongside a row of pictures of the greatest classical piano players of all time. This is an old-school piano forum with an advanced search engine for finding piano-related topics. You can search for keywords according to the date of the post, or you can even search for the posts with the most replies if you want to find an in-depth forum discussion. If this forum floats your boat, sign up to become a member and receive access to their full range of services and information.
This forum is a whole world of piano! There are specific categories for all of your piano-related needs: digital pianos, non-classical pianos, adult beginners, composers, pianos for sale, and the list goes on.
The forum is highly active. You can find discussions with up to 53,000 threads of questions and responses. The website advertises all piano-related equipment and can even help connect you to a local piano teacher.
The best part is that you can sign up free to this piano forum, receive a monthly newsletter with all of the hottest discussion topics, and purchase deals for piano gear.
This is a UK-based forum, but it is relevant for piano players everywhere. It has a clean layout with four clear categories: pianos (mostly related to buying a piano), digital pianos (about purchasing a digital piano), piano musicians (for performance and theory-related queries), and non-piano (in case you have another gnawing question).
If you're looking to purchase a piano or digital piano, this is a great place to research the best models and prices, though most of the actual purchase options are UK-specific. If you're in the UK, this is also a great place to connect to a piano professional, be it a teacher, tuner, or seller.
Here's a small, modest piano forum with few categories and little activity. This is a good place for you if you find the bigger and more popular forums to be dense and overwhelming.
Interestingly, the most popular discussion in this forum is "video sharing." This is where piano players share some of their favorite piano music or even videos of themselves playing.
Their catchphrase is "we're a group of enthusiasts who just like to socialize" – indeed, Piano Facts is an approachable platform for engaging with other piano players and sharing your piano-related questions or experiences.
If you've got an e-piano fetish, you've found your wonderland! This forum gives you the low-down on the best models, brands, and prices for electric pianos on the market.
It is a highly active forum, with tens of thousands of posts and high engagement.
If you're thinking about purchasing a clavinet, are having trouble with your Wurlitzer, or want to learn more about a Rhodes – you can find all this and more on the electric piano forum. They have specific discussions for buying,  selling, maintenance, and repairs. This forum is a one-stop shop for getting all the electric piano bugs out of your system.  

You don't need a Casio piano to find this forum useful. Many piano issues repeat themselves across all the piano brands. Casio just happens to have a website for discussing different technical issues which might arise when using their keyboards.
The forum is organized according to Casio piano models – don't get too confused by this. If you've checked out the other piano forums and haven't had any luck, try clicking on the Casio model. It is most similar to your piano or electric piano, and see if there is any useful information.
This is a modern, state-of-the-art forum dealing with technical issues in your digital piano. Rather than the old-school discussions with thousands of posts and comments, this interactive platform lets you chat about your piano situation with a professional in real-time.
For just $50 a month, you can join this platform and have instant assistance from experts in the industry at your beck and call. Though it's not a free service like some other forums, it has a quality guarantee and a flexible policy that allows you to cancel your subscription anytime.
This is a wildly popular website. Though it's not a specific piano forum, there are certain categories with an abundance of information about different music and piano-related needs.
Check out "Songwriter's Nook" if you're looking for some creative guidance and inspiration or "Your Home Studio" page if you're looking to build a little music cave in your bedroom.
The website is easy to navigate. If you need more convincing, check out the "Taxi Success Stories" to read about how others have used this website to get all the help they need.

Ask away.
We hope you find a forum from this short-list that is right for you. There are other piano forums, but these are the big players in the game.
Remember, there is no such thing as a stupid question when learning piano. Every uncertainty or challenge is valid. It is an essential step on the road to becoming a piano player. Above all, we must cultivate an online musician community with a friendly, approachable, and helpful culture. Get onto one of these piano forums and be a part of it.
Don't forget to try out Simply Piano, a world-class piano-learning app.